Last week Brian Friend and I, Patrick Clark, got an inside look at the CrossFit Mayhem athlete camp in Cookeville, TN. The Underdogs Athletics camp opened its doors to us from Jan. 28-29, 2023, at their home base inside Camp Rhino in Las Vegas, NV.
This time around, Friend couldn't make it to experience what the Underdogs camps had to offer its athletes due to coaching obligations at his CrossFit affiliate, so I went at it alone. Like Friend's goal in Cookeville, I wanted to learn as much as possible about the Underdogs Athletics coaches, the athletes attending, and what makes Underdogs Athletics unique from other camps.
Below is a recap of what I witnessed and experienced while in "Sin City" from Underdogs founder and head coach Justin Cotler and his many coaches and gathered for the 30 athletes in attendance.
[Related: Lessons Learned and Takeaways From Zack Telander's Interview with Mat Fraser]
Editor's Note: This article is an op-ed. The views expressed herein and in the video are the author's and don't necessarily reflect the views of BarBend. Claims, assertions, opinions, and quotes have been sourced exclusively by the author.
The athletes in attendance ranged from Games veterans and Semifinalists. Still, most of the athletes in attendance followed the Underdogs Competitive, RX, and Individual programming tracks who are looking to improve their scores and standings in the NOBULL CrossFit Open and the following stages as they chase their CrossFit Games dreams.
Day One — Morning Session
The athletes arrived at Camp Rhino between 9:00-10:00 am to register and receive their welcome bag, which included coffee and samples from camp sponsor Paper Street Coffee and official photo headshots. Cotler gave a welcome speech and introduced the Underdogs coaches and support staff. One of those coaches, Colette Casey, put the group into a quick icebreaker of "Rocks, Paper, Scissors" with a CrossFit twist: warm-up movements like crab walks and hurdler skips from station to station.
Afterward came the first group workout of the weekend; an Open-style workout: seven-minute AMRAP; add three reps per set complete starting at three of:
Takeaway: Pace yourself. Ascending rep workouts are tricky. It's potentially dangerous to come out hot, especially when the first three rounds of finish three, six, and nine reps can be done in less than 90 seconds. That leaves five or more minutes of remaining work. The round of 12 and 15 reps is when it starts hurting. Most of the athletes got into the set of 21 burpees, with a few reaching into the round of 24. It was a great intro workout to the camp as quick, low-weight, low-skill AMRAPs are an Open staple.
Underdogs Athletics Core Values and Open Do's and Don'ts by Justin Cotler
Takeaway: Have fun. Cotler spoke about the core values of Underdogs Athletics, which include grit, loyalty, leadership, community, and excellence. He broke down what each one means to athletes who follow their programming and coaching. The eight "Do's and Don'ts" of the Open stuck out to me. In particular, his last point: "do have fun."
After Cotler's presentation, coaches and athletes broke into three groups at assigned stations for instruction.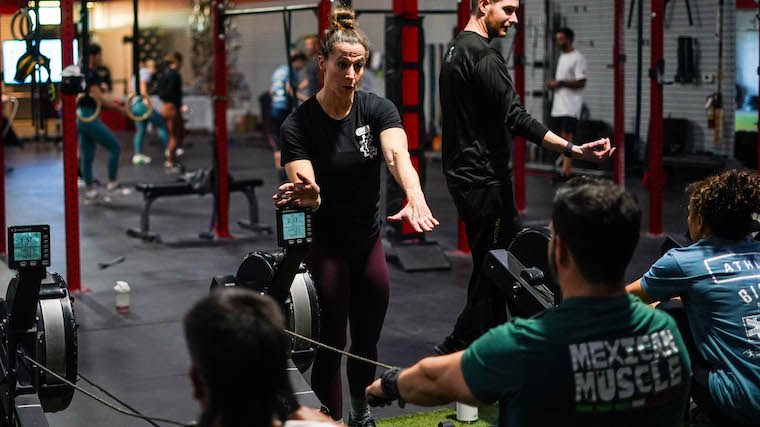 [Related: Strongman Rob Kearney Teaches Sandbag-to-Shoulder Technique]
Day One — Afternoon Session
The afternoon was a continuation of the morning sessions. Each group spent an hour at a station learning tips and techniques from Underdogs coaches. Experts in three movements (that might appear in the 2023 Open) were brought into the camp. Those movements were jumping rope, snatches, and rowing techniques.
"Jump Rope and Double-Unders" Coached by David Newman, Founder/CEO of RX Smart Gear
Newman is considered the best in CrossFit for anything jump rope related. He helped athletes select the correct length of jump rope and handles and then had them perform simple drills. Following that, he offered tips on the newest movement in the CrossFit space, the double-under crossover, which debuted at the 2022 Games. It made headlines as many elite athletes struggled with it. His session ended with the athletes attempting the "Thiccc Thirty" workout he created. 
"Thiccc Thirty"
For Time
30 Drag Rope Double-Unders
60 Kronos Double-Unders — One-pound handles
90 Hades Double-Unders — Men: four-pound handles | Women: three-pound handles
120 Zeus Double-Unders — Men: two-pound handles | Women: one-pound handles
150 EVO Double-Unders
All reps need to be performed unbroken. There was a three-burpee penalty for each break. Athletes restarted at the nearest increment of 30 after a break, rounded down (e.g., trip on 45, do three burpees, and restart at 30).
[Related: How to Design CrossFit Workouts for Building Muscle]
Takeaway: Plan breaks strategically. This workout is 450 double-unders at various levels of difficulty. However, it is actually more than that since everyone who has attempted this challenge ends up performing more than the programmed amount. The lone exception is Laura Horvath. According to Newman, Horvath is the only athlete to finish the workout unbroken.
Depending on an athlete's jump rope technique, this workout tires out their forearms, wrists, shoulders, calves, or all the above. The Kronos and Hades ropes often cause athletes to trip up on the lighter Zeus and EVO ropes, which are supposed to be easier.
Accepting that going unbroken isn't feasible, strategic breaks were the way to navigate the workout. I did 45 reps in with the Kronos rope but then took breaks after each set of 30. I used the penalty burpees as rest. The best times were just above eight minutes. Most athletes finished around 12 minutes.
Snatch Tutorial
Takeaway: Technique, technique, technique. Underdogs Assistant Head Coach Kiefer Lammi led this class. Two-time Adaptive Division Games champion Casey Acree, two-time Games Team champion Tommy Hackenbruck, and Underdogs coaches and athletes Mitch McLune and Dakota Shackleton joined him.
The instruction broke down the science of the technical Olympic lift. Each coach provided tips and cues on how to move the barbell more efficiently. With lifts like the snatch, technique is everything. Focusing on improving technique, so every rep looks identical regardless of weight can be a difference-maker in an athlete's score in the Open.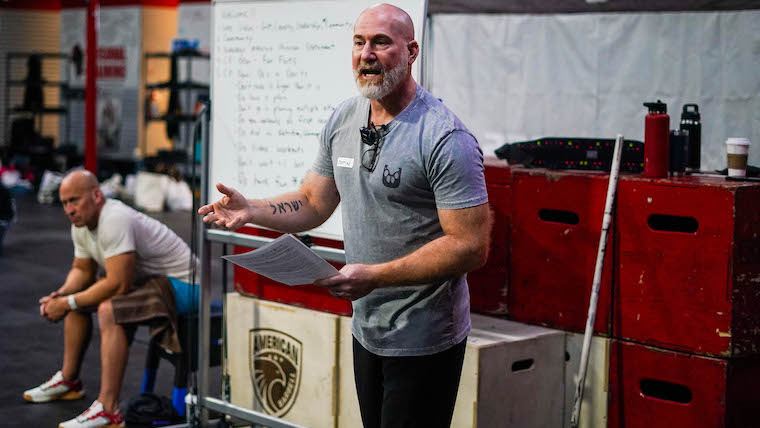 [Related: 6 Up-and-Coming CrossFit Athletes to Watch in 2023]
Rowing Tutorial
Takeaway: There's always more to learn. This class was led by husband and wife Rob and Lizzy Carson, who built their reputations as rowing experts through their Concept Fitness program. They taught the following:
Proper foot placement on the rower
How to quickly dismount when making transitions
Proper rowing form
How to find the proper resistance setting for optimal performance.
I prided myself as a rower, but what I found through their instruction were the many flaws that kept me from being more efficient. I hinged at my waist too soon and wasted more energy than was necessary when starting a row. A simple eight-pull method established my proper starting pace. This class resonated with me; I've already enacted it in my training.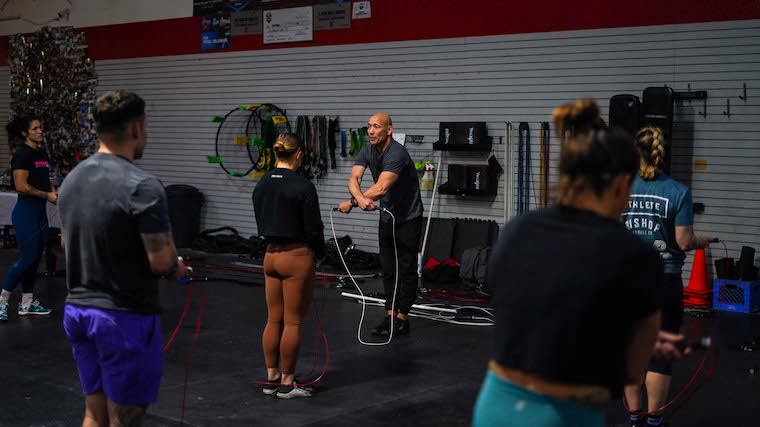 [CrossFit Performance of the Week: Gracie Walton Defends Her RFX Summer Showdown Title]
Day Two — Morning Session
The first workout of the second and final day was led by Underdogs coach Nick Burns and featured partner training.
For time, five sets each of:
Partner One — Ski/Row — Men: 400 meters | Women: 325 meters
Partner Two — 16 dumbbell snatches, 16 wall balls — Men: 50-pound dumbbells, 20-pound wall ball | Women: 35-pound dumbbells, 14-pound wall ball
Partners one and two switch upon completion of their work.
Time cap: 18 minutes
Takeaway: Communication is key for pacing a team workout. This workout seemed programmed for athletes considering competing on a team in the 2023 season. Transitions and communication played a role in completing this workout, which only a handful of pairs accomplished. Before the workout, Lizzy Carson gave a class on Ski Erg techniques. That and the rowing class helped me find a sustainable pace on both machines. I felt fresh switching with my partner for the dumbbell snatches and wall balls. Though the reps were small in number, it was challenging to go unbroken after the third set, though I succeeded on the snatches. I broke the wall balls into two sets of eight.
Day Two — Afternoon Session
Athletes were split into two groups based on regions (east and west). The groups were given two one-hour classes.
Gymnastics
This class went through fundamentals and techniques for toes-to-bar and bar muscle-ups. Lizzy Carson and Hackenbruck led the classes, pointed out flaws in athletes' techniques, and offered efficiency tips.
Clean and jerk
Coaches Lammi, Morgan, and Lesha Vozobule led the clean & jerk tutorial. They emphasized squat cleans to help athletes get acclimated to coming out of the hole under heavy weight. Foot placement and knee bend were the focus of the split jerk, as the goal is to move underneath the weight in a stable position to maintain the lockout.
Handstand Walk Tutorial
Takeaway: The newest Underdogs athlete, Lari Cunha, took centerstage after concluding the clean & jerk and gymnastics classes. Cunha was a part of the Brazilian national gymnastics team before focusing on CrossFit. She provided drills to help the athletes move more efficiently on their hands. She emphasized the core as the foundation of any successful handstand walk.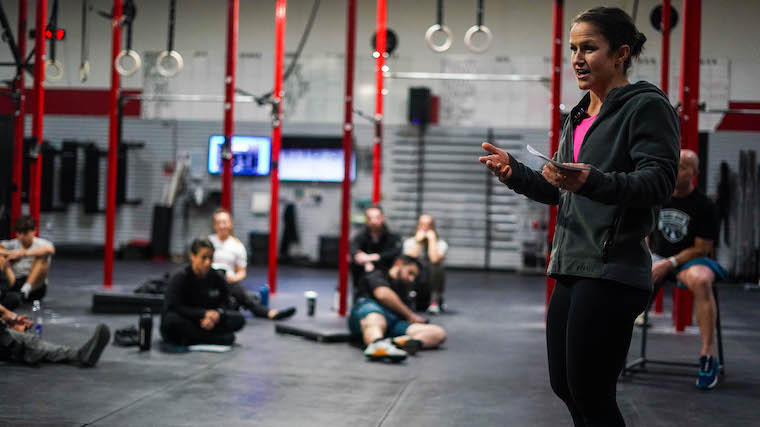 [Related: What to Look for When Buying an Indoor Cycle, According to a Spin Instructor]
"Becoming a Games Athlete" by Kari Pearce
Six-time Games athlete and four-time Fittest American Woman® Kari Pearce took the floor to discuss how she became one of the most successful CrossFit athletes ever. The techniques and instruction the athletes in attendance received were the same she received when she tapped Cotler as her coach. It led to a podium finish at the 2020 Games. Pearce shared practices she adopted throughout her career.
Be tougher than everyone else.
Pearce built her legacy in events that required grit. Her event wins in "Murph" at the 2016 Games "Atalanta" to conclude the 2020 Games are highlights of her pro career.
Wrap Up
This camp was structured differently than the Mayhem Athlete camp. The Underdogs Athletics camp was open to anyone who paid the entrance fee. It was geared towards those who follow Underdog programming. The discussions focused on techniques and training to help athletes improve their Open scores.
It felt similar to a CrossFit Level 1 Trainer course with a deeper focus on competition instead of coaching. According to Cotler, Underdogs Athletics plans to hold another camp before the 2023 Semifinals or the 2023 Games to include athletes competing at those levels.
Featured image via Patrick Clark.