Calgary was chosen for its connectivity to the U.S. market, Alberta's business-friendly climate and access to educated and skilled workers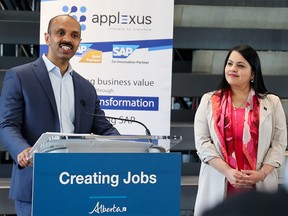 Article content
Another global tech firm has chosen Calgary for its Canadian headquarters.
Article content
With Alberta's Investment and Growth Fund contributing $1.43 million, Applexus Technologies is preparing to set up shop in Calgary's downtown, creating an expected 125 jobs.
Article content
Applexus, a Seattle-based company, has offices in the U.S., U.K., Middle East and India.
Calgary was chosen for its connectivity to the U.S. market, Alberta's business-friendly climate, and access to educated and skilled workers.
Article content
"Calgary will be a strategic location for us to serve most of our customers in the U.S. and Canada," founder and CEO Sam Mathew said in an interview with Postmedia.
Applexus is a technology services provider and a leader in data analytics, which helps transform businesses through consulting and SAP services. It will focus on consumer industries, manufacturing industries, and the tech and energy sectors.
Article content
New jobs coming to Calgary
For the time being, the company has office space in the Ampersand tower downtown while looking for a permanent location. Mathew said it will take three to five years to hit their employment targets.
It is the latest tech company to select Calgary as its Canadian or North American headquarters in the past year, joining Infosys, Mphasis, SideTrade and others.
Article content
The new jobs will be a welcome addition in the face of downsizing in recent months at other tech companies, including Benevity and Symend.
The Investment and Growth Fund was created in 2021 to attract companies to Alberta and retain businesses already in the province. Other southern Alberta investments include Ontario-based GoldLeaf Farms building an indoor vertical farm in Calgary in November 2021, USG Corp. building a wallboard manufacturing plant in Wheatland County in October, and Southland Trailers expanding its operations with a new plant in Lethbridge County last December.
Article content
Tech giant Garmin to create hundreds of new jobs with Cochrane expansion

Calgary-based tech company Benevity announces mass layoffs

Calgary tech remains strong in face of economic uncertainty
Trade, Immigration and Multiculturalism Minister Rajan Sawhney said the announcement is the latest example of a business understanding the benefit of locating in Alberta.
"Every time a company chooses Alberta, it is a vote of confidence in our economy, and this one is no exception," she said.
"When companies like Applexus are determining where they should do business, they look for a number of key characteristics. They want to invest in a jurisdiction that values and actively supports business growth, one that is committed to reducing red tape, one that has an attractive corporate tax rate, one that has a skilled workforce to support their work and one that has easy access to major markets."
— With files from Chris Varcoe
Twitter: @JoshAldrich03